Will the world wide decline in energy use, caused by the Covid-19 related economic slowdown, be a way to transition to clean energy or will the rebound be more use of fossil fuels?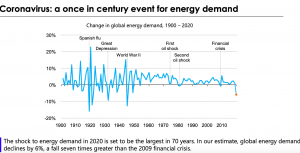 Here is key summary paragraph from the implications section of Global Energy Review 2020 report produced by the International Energy Agency (IEA).
The Covid-19 and measures taken to slow its spread have had a profound impact on energy demand, the likes of which have not been seen for 70 years. The full impact of the current situation, as yet unknown, will be determined by the duration of lockdown measures and the recovery paths taken around the world. This unprecedented situation and the stimulus packages that governments are putting in place will shape the energy sector for years to come, with significant consequences for the energy industry at large, energy security and clean energy transitions.
There are clean energy opportunities here or will we go back to business as usual, the report contends:
The Covid‑19 crisis is also influencing the path for clean energy transitions. Global CO2 emissions are set for the largest year-to-year reduction on record, but a sustainable energy pathway calls for continuous efforts and commitment. The unprecedented decline in emissions in 2020 may only be temporary without structural changes. Recoveries from past crises have caused immediate rebounds in CO2 emissions, including the highest year-on-year increase on record in 2010.
Governments will play a big role:
Governments will play a major role in shaping the energy sector's recovery from the Covid‑19 crisis, just as they have long been in the driving seat in orienting energy investment. In particular, the design of economic stimulus packages presents a major opportunity for governments to link economic recovery efforts with clean energy transitions – and steer the energy system onto a more sustainable path. While the clean energy transitions and stimulus discussions are gathering momentum, a co-ordinated policy effort will be needed to harvest its opportunities and lead to a more modern, cleaner and more resilient energy sector for all.